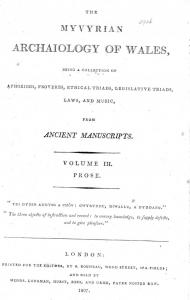 Although Owain Myfyr and William Owen Pughe supported Iolo's aim of publishing 'The History of the Bards', they channelled their own energies into publishing the three-volume compendium of Welsh medieval poetry and prose,
The Myvyrian Archaiology of Wales
(1801–07). The enterprise was largely financed by Owain Myfyr and Pughe began work on it in 1798. The second volume, published in 1801, included the following forgeries: a series of triads, two forged chronicles, 'Brut Aberpergwm' and 'Brut Ieuan Brechfa', which followed the rubric of Brut y Tywysogyon. The spurious 'Doethineb y Cymry' (The Wisdom of the Welsh) was included in the third volume published in 1807. Iolo even toyed with the notion of including 'Cyfrinach Beirdd Ynys Prydain' in
The Myvyrian Archaiology of Wales
.
In addition to the fabricated ancient bardic texts published in the second volume, the well-informed 'A Short Review of the Present State of Welsh Manuscripts' which prefaced the first volume was mostly penned by Iolo himself.