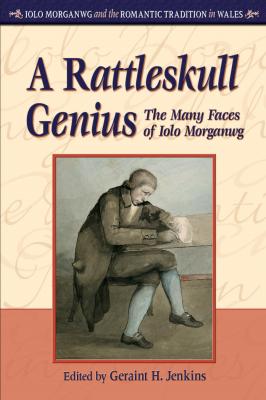 Edited by Geraint H. Jenkins
ISBN: 0-7083-1971-8
Published by the University of Wales Press
, October 2005
Now available in paperback
ISBN: 978-0-7083-2187-4 (0-7083-2187-9)
From the Preface ...
"This ... volume, the first in the series, is designed to portray Iolo as a profoundly contradictory, multi-layered figure who passed through many phases, assumed a variety of identities, developed a wide range of interests, and made himself known to an extraordinary array of people within Wales and beyond."
From a review by Prof. Jane Aaron ...
"Both the title and subtitle of this book on Iolo Morganwg are well chosen; what is likely to strike its readers most strongly is the multiplicity of different identities adopted by its subject, and the sense that he was in some way a misfit in all of them, rattling in a myriad ill-fitting roles. I enjoyed this rewarding book greatly and learnt much from it. Its various chapters make up a fascinating whole which contributes much to our understanding of late eighteenth and early nineteenth century Welsh life, both at home and in London, and is bound to increase interest in the strangest and most baffling of Wales's nation-builders."
Further publications by the project
The book is available from local booksellers on-line via gwales.com